Owner / Tattoo Artist / Airbrush Artist
Jason was born and raised in Mandan, ND. He has been an artist all of his life. Jason started airbrushing in college when he was in the Commercial Arts program at Bismarck State College, he graduated with an Associate of Applied Science in the program. He then moved on to teach the Graphic Arts program at Turtle Mountain College. He then realized he was more of an entrepreneur, so then decided to be self-employed in the airbrush and custom paint industry in March of 1998, and his business has been going strong since. Jason taught himself to tattoo in 2001. With a growing clientele base, he is versatile in all types of tattooing styles.
In the Spring of 2004, he was approached by ASET after attending one of Craig Fraser's classes at BSC, to start teaching airbrush classes throughout the country, as well as doing their Air Affairs in SLC. Jason is one of the 10 original artists that helped pioneer the Air Affair programs. ASET has since then started Air Affair East (Penn State) and Air Affair South (Florida). You can check out their website at www.asetusa.com
This paint is all done by Jason Doll. Jason is an award-winning published artist and is considered to be one of the best in the airbrush and custom paint industry. His work is also displayed in an Art Gallery in SLC, UT at ASET along with many other award-winning artists around the Country.
Require a free consultation
Call or stop in to make an appointment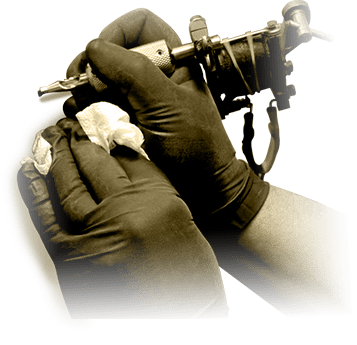 A deposit is required for all tattoo appointments