Required to setup any appointment
When making a tattoo appointment we require a $50 deposit that is non-refundable and is deducted from the price of your tattoo when you show up from your appointment.
To pay your deposit we have 3 options:
Drop off your deposit at the shop
(3001 Memorial Highway Mandan, ND 58554)
Call us with your credit card info
Pay online via PayPal
If you do not show up for your appointment, or if you cancel, you will not receive your deposit back. In order to apply the deposit to your tattoo for a canceled appointment, we will need a 48-hour notice of the cancellation and you will need to reschedule at the time of your canceling your appointment.
We accept Cash, Visa, Master Card, or Discover.
We do not take checks.

Most tattoos are priced by the piece that the artists will quote. However, our shop minimum is $75.
If you would like to get a price on a tattoo we would be glad to help you either by email or by stopping into the shop and getting a quote.
Require a free consultation
Call or stop in to make an appointment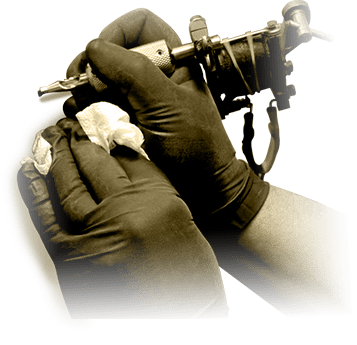 A $50 deposit is required for all tattoo appointments